The surf in St. Augustine for
Sunday January 11 , 2015


Wave Height 2 - 2½ft
Wind Direction NNW
Wind Speed 5 kts
Water Temp 60°
High Tide 1 11:50 AM
High Tide 2 12:23 AM
Low Tide 1 5:47 AM
Low Tide 2 6:14 PM
Time Of Report 8:31 PM
Comments Fun waves at times today depending on the winds. Forecasts call for plenty of waves with some size and friendly winds tomorrow. Also plenty of surf throughout the week into next weekend.


Don't forget, St. Augustine's oldest surf report is now online. Blue Sky Surf Shop's surf report, with cams and quicktime clips of the waves.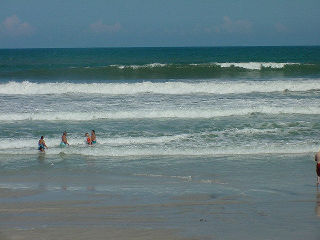 Hurricane Debbie 8/12/2000
Can you tell how big it is?
by KP
(Click image to enlarge)