The surf in St. Augustine for
Tuesday August 11 , 2015


Wave Height 1½ - 2ft
Wind Direction S
Wind Speed 7 - 8 kts
Water Temp 82.4°
High Tide 1 6:22 AM
High Tide 2 6:49 PM
Low Tide 1 12:19 AM
Low Tide 2 12:16 PM
Time Of Report 9:36 PM
Comments Bumpy lines out of the ENE breaking ok near high tide this evening. Warm clear water is back with the onshore flow. Nothing significant in the forecast.


Don't forget, St. Augustine's oldest surf report is now online. Blue Sky Surf Shop's surf report, with cams and quicktime clips of the waves.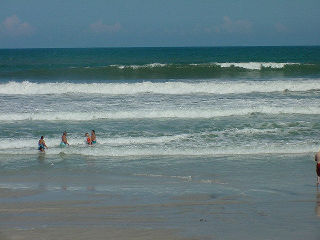 Hurricane Debbie 8/12/2000
Can you tell how big it is?
by KP
(Click image to enlarge)