The surf in St. Augustine for
Tuesday November 19 , 2013


Wave Height 1½ - 2½ft
Wind Direction N
Wind Speed 24 - 27 kts
Water Temp 68°
High Tide 1 8:50 AM
High Tide 2 9:16 PM
Low Tide 1 2:24 AM
Low Tide 2 3:08 PM
Time Of Report 5:39 PM
Comments Building northerly windswell hiding a building Easterly groundswell from Subtropical Storm Melissa. Looks like plenty of surf for the rest of the week as the winds and waves do the normal rotate as this High moves out. Lighter winds and smaller waves this weekend in front of the next NE'er that should show up for next week.


Don't forget, St. Augustine's oldest surf report is now online. Blue Sky Surf Shop's surf report, with cams and quicktime clips of the waves.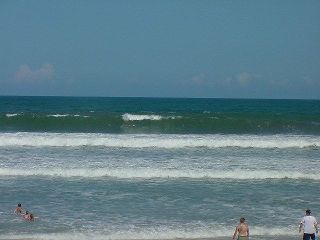 Hurricane Debbie 8/12/2000
Can you see the guy paddling out?
by KP
(Click image to enlarge)