The surf in St. Augustine for
Thursday July 2 , 2015


Wave Height Flat - ½ft
Wind Direction SSW
Wind Speed 6 - 7 kts
Water Temp 73.4°
High Tide 1 8:51 AM
High Tide 2 9:17 PM
Low Tide 1 2:48 AM
Low Tide 2 2:42 PM
Time Of Report 8:50 PM
Comments Tiny SE lines breaking cleaning right on the beach this evening. Forecasts show more of the same for the next several days. Small barely ridable at times.


Don't forget, St. Augustine's oldest surf report is now online. Blue Sky Surf Shop's surf report, with cams and quicktime clips of the waves.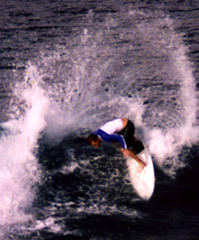 Myles McGuinness PR 98
By Debra
(Click image to enlarge)